I never know what to write about for these things, but several good friends told me I should do this anyway.
With that, possibly an intro?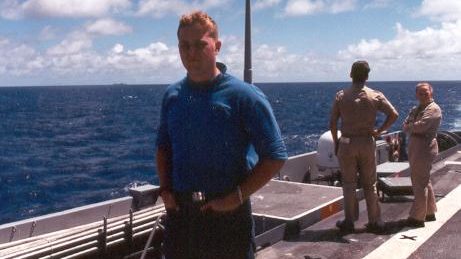 I have been working in tech since 1999 starting as an Electronics Technician in the US Navy. I was formally trained in electrical engineering and RF communications with a secondary school in a secure message trafficking system called NAVMACS (NAVy Modular Automated Communications System). Later, I was also trained on a mission-critical SHF (Super-high Frequency) satellite communications system that ended up providing 5Mbps of internet and phone communications for 300-500 Marines and Sailors.
As part of my duties while on-board the 3rd Fleet, I was assigned to the flight crew to assist in securing, re-fueling and training Marine helicopter pilots for shipboard qualifications. We trained the USMC helo pilots for UNREP (UNderway REPlenishment) as part of their night qualifications. The pilots would fly out to our ship in a SH-46 Sea Knight and completely dark and the flight deck completely blacked out.
One blue-shirt from the flight deck would stand out with a long plastic rod with a loop at the end – the q-tip – waiting to feel the downdraft of the '46 and looking for a hook to slam the open end of the q-tip on. Before 9-11, this was a lot of what we did on the USS Coronado.
After 5 and a half years I was medically separated and got a position as a Field Engineer for the company, Titan Systems in San Diego.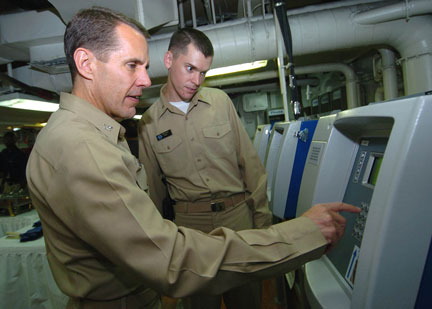 Titan supported the installation and testing of the Navy Cash system while working closely with Chase bank. I was assigned to the installation process where I worked with shipyard contractors and installations teams from around the world. Within the first two installs, we had refined the process from a six to eight week installation down to a three to four week installation.
In addition to the Navy Cash program, Titan also supported the installation of Navy and Marine Corp. radio equipment in military amphibious craft. During my time at Titan, we engineered and tested satellite, radar and other specialized military weapons and communications equipment.
Titan Systems was purchased by L3 Communications in 2006 after I had left and started working for General Dynamics Information Technology at the Point Loma Systems Integration Facility (SIF) and Combined Test Bed (CTB). This facility was the test bed for new and legacy equipment entering the Navy fleet from SPAWAR Systems Center in San Diego. To maintain interoperability, we designed hardware and firmware that would manipulate incoming analog data signals and output low level digital signals for copper, fiber and wireless data transmission. Fancy words, but we made one thing do the same thing for another thing. During my time at GDIT, we built and tested the Ballistic Missile Defense (BMD) top secret communications network, the Joint Strike Fighter (X/F-35) test platform and maintained fleet interoperability.